AQ Active Serum – Daily Topical System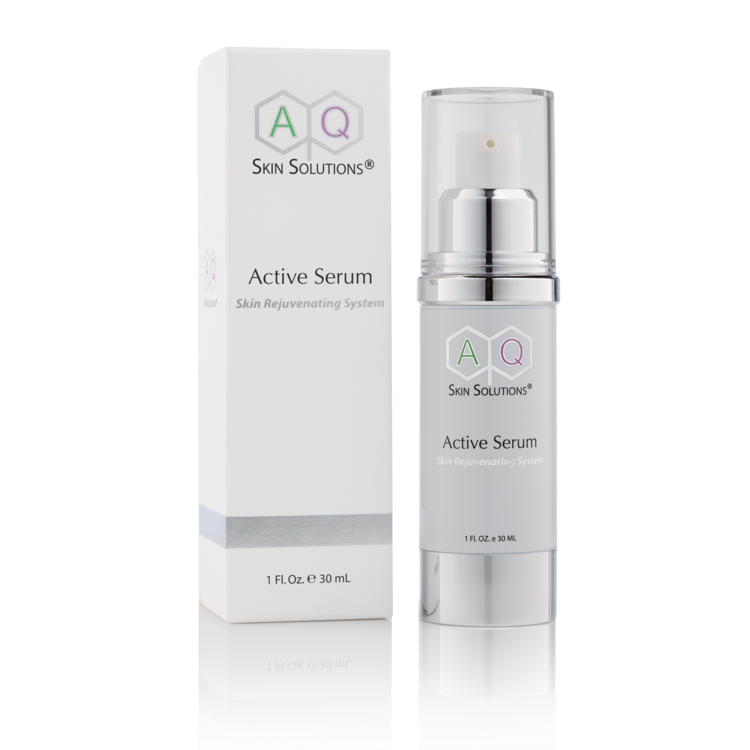 Active Serum Benefits
Helps decrease wrinkles and fine lines
Aims to build collagen naturally
Improves appearance of skin texture and pigmentation
Can fade stubborn sun damage, age spots and scars
Perceived skin aging, such as wrinkles, roughness, pigmentation, and loss of elasticity, is largely due to damage caused by environmental factors. In fact, researchers have found that almost 90% of skin aging is due to exposure to UV light from the sun. This process is known as photo-aging.  Air pollution, smoking, and irritable toxins are among other factors contributing to perched aging. Repeated exposure to these factors result in skin that is unable to maintain its structure and health due to the breakdown of collagen and decreased production of growth factors.
Designed to promote rejuvenation, the AQ Active Serum contains patented Growth Factor Technology (U.S. Pat. 8,518,879) to help stimulate natural growth, organization and maintenance of your own skin cells. AQ Active Serum has been formulated to maintain a stable conformation of high-purity fibroblast growth factors that are genetically similar to those naturally made by the body. Supplementing the face and neck with AQ Active Serum can help the skin naturally rejuvenate itself, returning the skin to its youthful state.
Directions
After cleansing, dispense a small quantity onto clean fingers (gently press the pump no more than halfway down) and lightly apply over the entire face, neck and chest area. Moderate skin renewal may occure within two weeks, but optimal improvement to your skin is generally not reached until six weeks of daily use.
Avoid direct contact with eyes.
Ingredients
Human Fibroblast Conditioned Media, Water (Aqua), Glycerin, Polysorbate 20, Cellulose Gum, Tetrahexyldecyl Ascorbate, Tocopheryl Acetate, Lactic Acid, Citrus Aurantium Bergamia (Bergamot) Fruit Oil, Phenoxyethanol, 1,2-Hexanediol, Caprylyl Glycol.